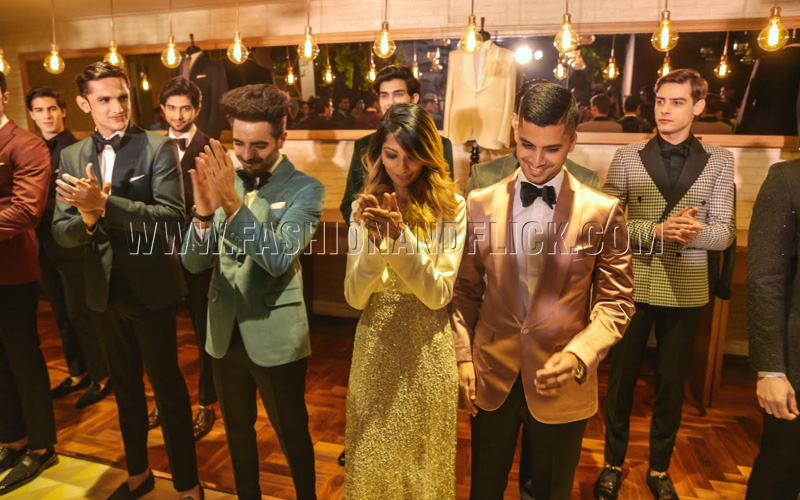 October 2019, Mumbai, India: SS HOMME – Sarah & Sandeep launched their ceremonial red carpet collection, 'Scrupulous', in spectacular fashion at The A Members Club on Friday, 11th October 2019. In attendance were fashion forward men like Aparshakti Khurana, Keith Sequiera, Arjun Kanungo, Rizwan Bachav and DJ Anish Sood dressed entirely in western ensembles designed by Sarah & Sandeep.
The soiree was a celebration of meticulous craftsmanship in the bespoke clothing sector and a curated display featuring hand embroidery, hand-painting on fabrics and the process of shoe-craftsmanship. Through the event, the brand's presentation showcased the various options of customization on western garments and accessories available for men. The experience partner for the event was Chivas India.
The collection consisted of contemporary tuxedos and dinner jackets, all hand crafted to perfection. With beadwork jackets & hand embroidered geometric patterns being the focus, Sarah & Sandeep pushed the norm by involving uniquely cut belted tuxedos, jewel toned velvet ensembles and hand-painted jackets.
Designers Sarah & Sandeep walked out to close the show with showstopper Aparshakti Khurana wearing their Aquamarine Velvet Creation.
Designer Sarah & Sandeep Gonsalves stated, "It was a pleasure working with The A Members Club to launch our ceremonial red carpet collection 'Scrupulous' as a private fashion show and curated experience. We have designed this collection to give bold fashion forward men a diverse range of styles as opposed to a classic black quintessential tuxedo for special occasions."
'Scrupulous' is now live at the SS HOMME – Sarah & Sandeep studio.
SS HOMME – Sarah & Sandeep,
Sura Mansion,
S. V. Road, Opposite Sacred Heart School,
Khar (West), Mumbai, Maharashtra 400052