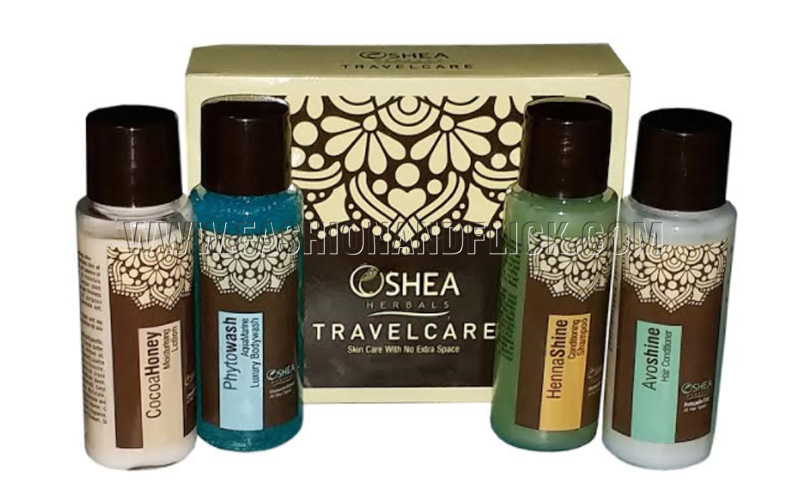 Oshea Herbals, the leading manufacturer of herbal cosmetics has commenced Oshea TRAVELCARE Pack to make your travelling even more amazing and hassle-free. The Pack has the collection of the must have products for a glowing skin and bouncing hair.
Oshea TRAVELCARE Pack is the set of four different products, out of which two are for healthy and glowing skin and the other two are for shiny and bouncy hair. The pack contains HEENASHINE Conditioning Shampoo, AVOSHINE Hair Conditioner, AQUAMARINE Body Wash and COCOAHONEY Moisturising Lotion.
Oshea HEENASHINE Conditioning Shampoo controls the harsh weather effects on hair and ensures total protection from UV Sun Rays and Pollution. Heena as the active ingredient in the shampoo provides natural conditioning to the hair while making hair follicles stronger and healthier.
Oshea AVOSHINE Hair Conditioner works as a creamy volumising conditioner which provides ultimate shin and volume to the hair. Amalgamated with Aloevera, Hibiscus, Avocado and Cherry extract, this conditioner works on strengthening the hair and protects against environmental damages.
Oshea AQUAMARINE Body Wash is the mixture of precious botanical extracts which stimulates your senses and invigorates your day. The Body Wash cleanses and moisturizes the skin while leaving an aromatic fragrance all day long.
Oshea COCOAHONEY Moisturising Lotion maintains the pH balance of the skin and provides skin moisture retention and elasticity. It is an all purpose moisturizing lotion that promotes soft and smooth skin for all day long.
Oshea TRAVELCARE Pack is the smart choice of every individual who desires for healthy skin and hair regimen during their tour & trip. The pack has been designed for unisex purpose for a hassle free and healthy skin and hair care regimen.
Oshea TRAVELCARE Pack is priced at Rs. 195/- Only for 120ml which will last for 5-6 uses and are accessible at all leading cosmetic outlets and major online retailers across the country.