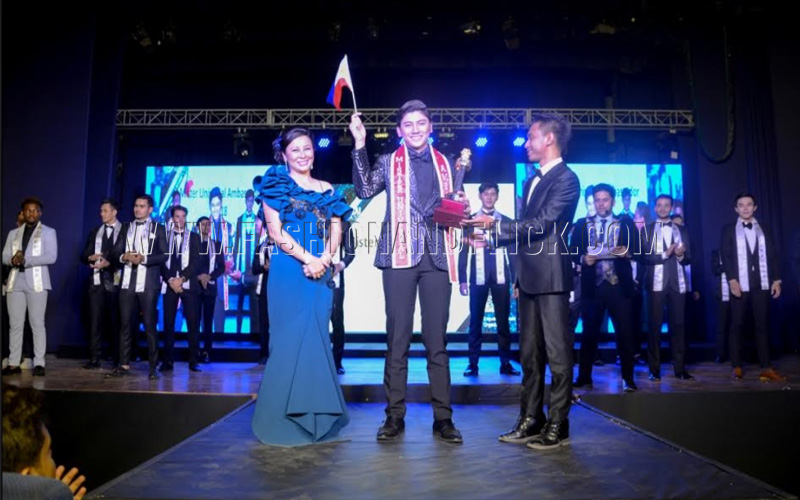 26th November 2018, New Delhi : 23 year old George Reylor De Lumen of Philippines won the title of Mr. Universal Ambassador 2018. The World Finale of Mr. Universal Ambassador 2018 was organized last night at the Arya Auditorium, East of Kailash, New Delhi by the India Exquisite Pageant Organization.
Contestant of 19 countries participated in this competition. All the competitors has been trained and polished by Kaushik Ghosh, who is known for the world fashion world and also the director of the show. In this show, Aurain Nayaab who is an official designer of this show, gifted his official costume to Winners.
In order to judge this competition, Gandhi Farnando (Movie Actor, Indonesia), Edin Muhammad (Chairman, IMP, Indonesia), Aurain Nayaab (International Fashion Designer), Simeon Singsit , (Founder, India and World Pageant), Dr. Rajiv Kumar (Country Representative, BWL, Institute Switzerland), Soumen Koley (Social Worker Award, TJAPSKBSK Organisation), Dinesh Mohan (Actor Serial- Ye pyar nahi to kya hai on Sony TV), Savita RaajHiremeth (Producer, Tandav Production, (Khosla ka Ghosla), Dipak Shahi (Co-Founder, TGPC), Dr. GampiHibu (Helping Hands Society), Dr Sangeeta Takhelmayum ( Film Producer, S3C Production (Manipur), Rajesh Goyal (Awardee Winners in Waste Mangement) are few.
The competition had a total of 6 rounds the first round was national costume, the second round bare body, the third round formulas tuxedo, the fourth round with top 12 contestants, the fifth round was with the Top 6 Contestants and the last round finale had 3 contestant's. From which 23 year old George Reylor De Lumen of Philippines managed to win the title of Mr. Universal Ambassador 2018 and the first runner-up title of Indonesia's 20-year-old Agung Wira Jaya and second runner-up title, Thailand's 19-year-old Chitsanupong Soeksiri.
India Exquisite Pageant Organization, on the stage of the International World Finale, West Bengal based, TJAPSKBSK organisation Secretary Mr. Soumen Koley was honoured for his running social work and his stereotypical noble deeds (Beti Bachao Beti Prabhao, Swachh Bharat Abhiyan, Kanyashree, Save Drive Save Life) And in the process of accumulation of their work which they have been doing for the past 37 years for the welfare of the people.
The Contestant was awarded the title of Best Talent, Best In National Costume, Best in Physiques, Best In Faces, Inshape Fitness, Mr. Congnigiability, Promising Face, Best In Speech Contest and Best Walk in Competition.
According to the show's organizer Rajni Subba (Owner and Founder of India Exquisite Pageant Organization) : Before now these shows have been done in 3 cities of the world (Puerto Rico, Serbia and Vietnam). This is 4th edition which is being done first time in India, it is absolutely Men's exclusive. We have yet to do National Pageant only This is the first international pageant under the India Exquisite Pageant Organization Banner, we want to show everyone and tell us about our rich Indian heritage culture for this, we also take them on a 6-day tour of India. They were also impressed by those people.