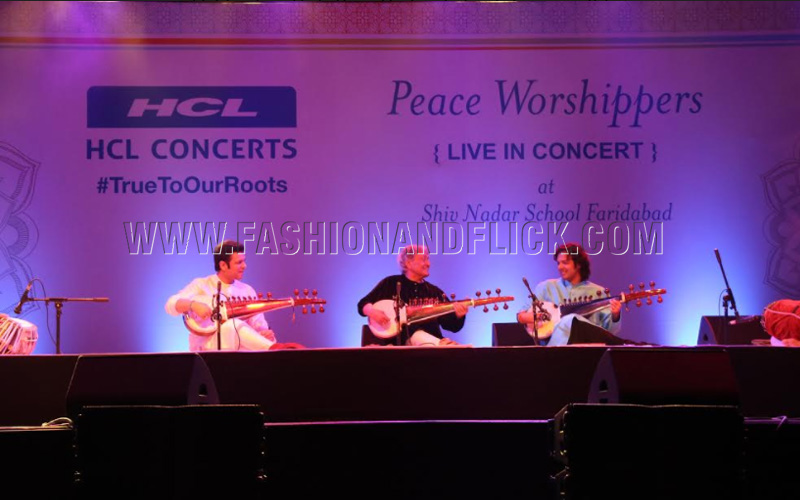 Faridabad, February 02, 2018: HCL Concerts got launched in Faridabad today, witnessing a sensational performance by Amaan Ali Bangash, Ayaan Ali Bangash and their father and legendary Sarod maestro Ustad Amjad Ali Khan, at Shiv Nadar School Faridabad. The artists presented their recently recorded album "Peace Worshippers" which has also won Gold at the prestigious Global Music Awards.
The concert was originally planned to feature Amaan and Ayaan Ali Bangash, and Grammy nominated American violinist Elmira Darvarova, who is also part of the Peace Worshippers album. However, unfortunately due to an illness, she was not able to perform. The audience though sad to know about this, were ecstatic when it was announced that instead Ustad Amjad Ali Khan will be giving a special appearance.
The performances received an overwhelming response from the audience and was well appreciated.
Ustad Amjad Ali Khan needs no introduction. A titan of the Sarod, he is perhaps one of the greatest living legends of Indian classical music. Recipient of numerous global and national laurels, he was awarded the Padma Shri in 1975, the Padma Bhushan in 1991 and the Padma Vibhushan in 2001. He was also awarded the Fukuoka Asian Culture Prize in 2004. The U.S. state Massachusetts proclaimed 20 April as Amjad Ali Khan Day in 1984. Khan was made an honorary citizen of Houston, Texas, and Nashville, Tennessee, in 1997, and of Tulsa, Oklahoma, in 2007.
Amaan and Ayaan Ali Bangash represent the seventh generation of a musical lineage known as the Senia Bangash School. Sons and disciples of the Sarod Maestro Ustad Amjad Ali Khan, Amaan and Ayaan stepped into the world of music and the Sarod at a very early age, with confidence, clarity, consistency and technical mastery all of which they learnt at their father's knees.
Peace Worshippers represents the culmination of a collaboration between Ustad Amjad Ali Khan and his two sons Amaan and Ayaan Ali Bangash and the distinguished American violinist Elmira Darvarova. This recording emerges from Ustad Amjad Ali Khan's deep and long abiding commitment to peace and tolerance both in the larger world as well as in the smaller communities of city, neighborhood, and the circles of family and friends.
The concert started with Raag Piloo, Raag Dehmukh and concluded with Raag Baageshwari, Raag Saraswati.