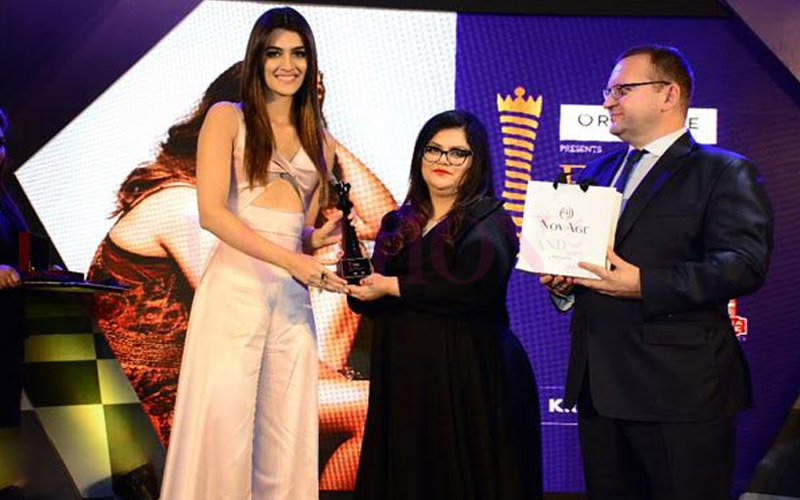 Gurugram, 07 March, 2017: Femina, the leading women's brand in the country has always realized and celebrated the astounding prowess of women from different walks of life. Femina Power List North 2017, presented by Oriflame, in association with Rajnigandha Silver Pearls and powered by India Gate Basmati Rice, aims at paying tribute to the women across various fields for their achievements. The event held on March 06, 2017 at Taj Vivanta, saw nine of the most influential women achievers from the north being felicitated at the gala commemoration held in the region.
An evening especially devoted to the perennial spirit of women, honoured their phenomenal contribution in their respective fields. The awards ceremony felicitated the 9 winners namely, the gorgeous actress Kriti Sanon who made a smashing debut with Heropanti followed by the blockbuster movie Dilwale alongside Shah Rukh Khan, Riddhima Kapoor Sahni, a successful fashion and jewellery designer, Bhavana Reddy, an acclaimed Kuchipudi dancer, Neeti Palta, one of the few English stand-up comediennes, Karuna Nundy, supreme court lawyer and champion of women's rights who helped draft the Womanifesto, Sharmistha Mukherjee, a Kathak exponent and daughter of Pranab Mukherjee, Lakshmi Rana, one of the best ever faces to have walked the Indian ramp, Namrata Joshipura, India's leading designers and Tania Sachdev, Arjuna Awardee Grand Master who currently holds a world ranking of 43. She also holds the record of being the youngest to win a Gold Medal at an International event, the British Chess Championship, 1993.
Speaking about the event, Tanya Chaitanya, Chief Community Officer and Editor, Femina, said, "Femina's association with powerful women forms the core of the brand. Being the most widely read women's brand in the country, we feel it is essential to honor and celebrate the undying spirit of women from all walks of life. We look forward to more such initiatives and keep up with the essence of the brand.
Commenting on the achievement, Actress Kriti Sanon said, "I would like to dedicate this award to my parents. Without their support, I wouldn't have been able to achieve this feat. I feel ecstatic to share this platform with such inspiring women. I am a little too overwhelmed and questioning myself whether I actually deserve this award as there is so much more for me to explore and achieve. Coming from a middle class family and reaching here today, the journey has been really ambitious. I just want to say to all the women out there that no dream is too big. So just believe in yourself and don't let anybody discourage you."
Coming from one of the most influential families of Bollywood, Riddhima Kapoor Sahni decided to take the reins of her career and create her own identity. On being felicitated by Femina, Riddhima said, "I launched my own jewellery brand exactly a year ago from today. Throughout the journey, my mom(Neetu Kapoor) has been my biggest inspiration and my husband, a guiding force. I would also like to take this opportunity to thank my team and partner, without them this venture would not have been possible. It's just one year since I started my brand and there are so many more years to go and milestones to achieve."
Hailing from an army background, she achieved what she aspired for. She has walked the ramp for many Indian and international brands and has remained designer's favorite. Model Lakshmi Rana on being awarded for her contribution and becoming the inspiration of many said, "I would like to thank Femina for this honor. Recognition of women power is the first step to building a healthy progressive society. I have been brought up in an army environment; my father who was an army officer always made me believe that we are not less than a man. This is what we aspire to achieve, to be ourselves, to realize our ambitions and to work towards achieving them."
Sharmistha Mukherjee, who is not only an acclaimed Kathak dancer but also a fearless leader, on being felicitated said, "Politics is a very challenging world. It is not about leading the country but about serving the country and working for its upliftment. I come from the world of art; primarily I am a Kathak dancer which makes me realize that both politics and art require passion and conviction. I believe if a person is passionate and has conviction, they can achieve anything."
Femina Powerlist is an initiative to bring together women from diverse backgrounds on one platform, to share their stories of inspiration, and pave the way for women empowerment. Femina in the past has already felicitated the women from South of India and Maharashtra with Femina Powerlist in the respective regions.