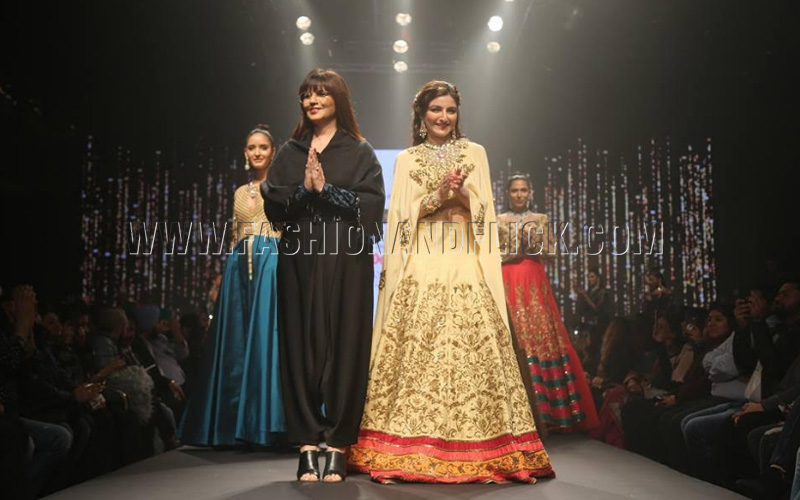 New Delhi: The Dream Diamonds Delhi Times Fashion Week came to a splendid closure with veteran designers Meera & Muzaffar Ali showcasing their latest collection. In what was an extremely unique presentation, the highly awaited show by Meera & Muzaffar Ali was choreographed by none other than the Kathak Maestro Birju Maharaj, lending the right rhythms to models as they swayed to the tunes of Indian classical music while matching the ethnic collection of the veteran designers.
The gala three-day fashion week was a feast for fashion connoisseurs who witnessed the beautiful collection from the ace designers, in addition to many celebrities taking the ramp. The fashion week brought together the best of contemporary designs, including collections by popular designers such as Suneet Varma, Anand Bhushan & Nikhita Tandon, Neeta Lulla, Rohit Gandhi and Rahul Khanna, Meera Muzaffar Ali and the likes.
The show began with none other than celebrated designer Suneet Varma, followed by Anand Bhushan & Nikhita Tandon, Christine Strom and Niki Mahajan. On day two, the Dream Diamonds Delhi Times Fashion Week visitors were enthralled by Ashfaque Ahmad & Neetu Singh, Arshi Jamal & Sadan Pande, Meena Bazaar & Vastya, Neeta Lulla and Dream Diamonds. The gorgeous Soha Ali Khan walked the ramp for Neeta Lulla while another Bollywood beauty Esha Gupta was the show stopper for Meena Bazaar. The super-stylish lifestyle week had an apt culmination with Sulakshana Monga, Rahul Khanna & Rohit Gandhi and Meera Muzaffar Ali.
Talking about the 2018 edition of the Delhi Times Fashion Week, Rohit Gopakumar, COO, Optimal Media Solutions – Times Group Company said "If Mumbai is called as the financial capital, Delhi is India's de-facto fashion capital with most of the renowned designers being based out of this city. With unprecedented growth of professionals within NCR and migration of highly-educated and skilled professionals, the definition of self-expression keeps getting reinforced in this city's culture. Uber, suave and well-heeled fashion citizens in Delhi are always known by the company they keep and the social life they lead reflect this lifestyle. All high-end lifestyle products make a mark of entry into India first in the city of Delhi. So, we at Delhi Times felt that there was no better opportunity or platform to launch the season 2 of Fashion Week in Delhi. Delhi Times has become synonymous with begin the go to platform for a daily dose on Lifestyle and Entertainment for this discerning audience and an event of this nature will only bring us closer to our audience and establish us as a torch bearer in trend spotting. We thank all our partners and designers who believed in our ability to execute a fantastic event. The team worked day and night to put this together and kudos to them for pulling off a classic event which has become the talk in fashion circles. The ramp came alive with colour, art, tradition, and of course, a heavy dose of style. It was definitely an event not to be missed."