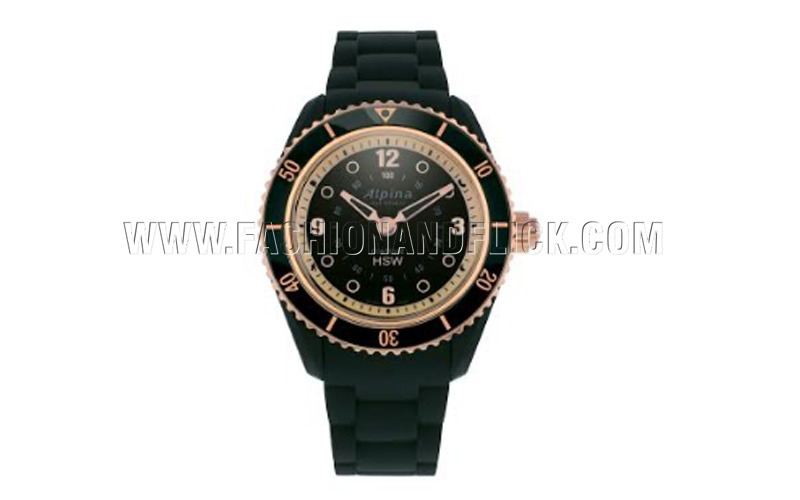 India- In 1963, Alpina first launched its COMTESSE lady collection with automatic movements. In 2014 Alpina brings back its COMTESSE lady line to mark its long tradition in the design of fine lady watches, which has started in the 1920's.
In 2017, Alpina enriches its Comtesse range by presenting in Baselworld 2017 four new Comtesse models, offering a firmly sports design with connected functionalities.
A Stylish and "Smart" Sports Watch
Alpina and Swiss brand MMT worked together to bring forth a new version of the successful Horological smartwatch. The Comtesse Horological Smartwatch merges refined elegant lines with the renowned Alpina sport attitude, resulting in an active watch for active women. The MMT AL-281 module featured inside the watch case allows the user to track different activities such as exercising and sleep, as well as receiving call and email notifications, all this linked through the MMT-365 app on the user's phone.
Casual elegance
The Comtesse Collection embodies the concept of Swiss Alpine Chic to the fullest: Swissness, Character, Luxury and Simplicity, showcasing a delightful balance of sportiness and elegance.
Sportive case
The new Comtesse Horological Smartwatch is introduced in four versions, all featuring a new 36mm diameter with a fiberglass casebody and lugs while the caseback remains in stainless steel to secure the water-resistance. Case exists either in white or black, providing a very light weight feeling on the wrist while being highly shock-resistant. A very appreciated feature for any kind of sports training.
Refined details
The different dials of the new Comtesse Horological Smartwatch, available in black, white or mother-of-pearl, remain very feminine and carefully executed in the pure Swiss watchmaking tradition, offering applied luminous indexes or diamond indexes according to the version.
The new Comtesse Horological Smartwatch models will fit perfectly on active women' wrists while remaining elegant watches perfect for any casual occasion.
Features of the Horological Smartwatch
Notifications: This feature sends you a notification whenever you receive an email or as calls from your contact numbers.
Activity Tracking: Keep track of daily steps, calories burned, and total distance.
Sleep Monitoring: Wear the watch at night or put it under the pillow to record the sleep pattern. A sleep tracking function provides details on how much time you spent in deep sleep, light sleep, or awake.
Always On-Time & Date: You never have to set a time and date – traveling across time zones, the Horological Smartwatch picks up the time from your smartphone and displays new time automatically.
Sleep Cycle Alarm: Set a smart sleep alarm that will help you to wake up at the best appropriate time in your sleep cycle so that you wake up refreshed.
Get-Active Alerts: Set an alert to remind you to move if you've been idle for a set amount of time; you can customize your Get Active Alerts directly through the MMT-365 app.
Dynamic Coaching: Receive suggestions, tips, and information catered specifically to you based on your activity and sleep goals.
Cloud back-up and restore: Recover all of your data, even if you lose your watch or phone. The Horological Smartwatch independently stores your activity and sleep for 30 days without having to synchronize it to your smartphone. A great way to collect and keep your data on-the-go!
Worldtimer 24 time zones: Frequent traveler? Keep track of your hometown's time by simply entering your city into the app. You'll always be able to know instantly when is the ideal time to call your loved ones or business partners back home.
The MMT-365 app which connects to the smartwatch via Bluetooth is available on both iOS and Android systems.