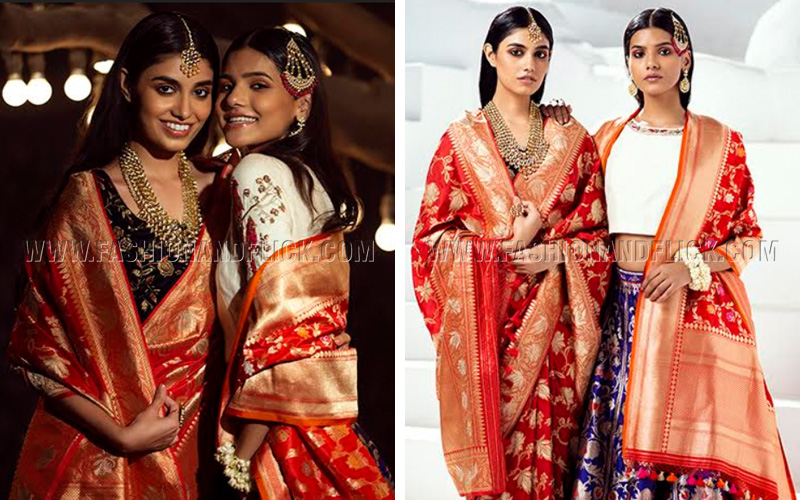 With the chic style statements in ethnic wear such as suits and stunning sarees, you can do up your desi looks. Statement pieces such as the exquisite dupattas are more than enough to help you steal all the attention. You can get that stunning red ethnic suit that you have been eyeing, gorgeous designer-inspired gotta Patti dupatta that never fails to make an impression in various fabrics. Weaverstory focuses on reviving the designs from museums and traditional forms feature a collection of timeless dupattas available in countless designs and hues. You can provide a stylish spin to your old salwar suits and lehengas by getting hold of a stunning range of dupattas.
Handwoven Chandheri Dupatta:
Weaverstory houses a collection of Handwoven chandheri silk dupattas which not only seem to be colourful but also include intricate detailing that makes them a class apart. They have a variety of works that adorn these dupattas like Rich Silver and Gold Zari, Meena, Booti, Zangla, Floral Motif and more. I can pick up pick one with the handwoven embroidery, printed patterns, zari borders or other styles.
Silk Dupatta:
Silk dupattas are an absolute choice of every girl because the rich silk fabric can provide a chic lift to any salwar suit. A Katan silk jangla dupatta with the work on meenakari zaal, cutwork Booti, Jamdani weave, Kadhwa weave, and more from the list of traditional weaves and works.
Patola and Ikat:
Patola although referred to as the Queen of sarees for its lush and illustrious silk and complicated geometrical patterns with the utilization of rich flora and fauna make an equally impressive mark in Dupattas too. The Banarasi Patola use the intricate meenakari cutwork technique to weave the sarees and dupattas whereas in the Patolas from Gujarat the technique used is completely different. The Warp and Weft are dyed within the pattern of the saree then woven with great mathematical precision. the end product though with similar motifs incorporates a completely different look.
Banarasi Bandhej:
This is an absolute must in every girl's wardrobe because the rich silk fabric can give an elegant lift to any salwar suit. The Dupatta is handwoven in Banaras then the Bandhej is completed in Jam Nagar. this can be also referred to as shikarpuri bandhej.
If you're someone who is curious about owning some beautiful silks, ikats, patolas and Banarasi dupattas with antique borders and weaves, it's time you propose a visit to weaver story, 253, Westend Marg, near Garden of 5 Senses, New Delhi or visit online at weaverstory.com