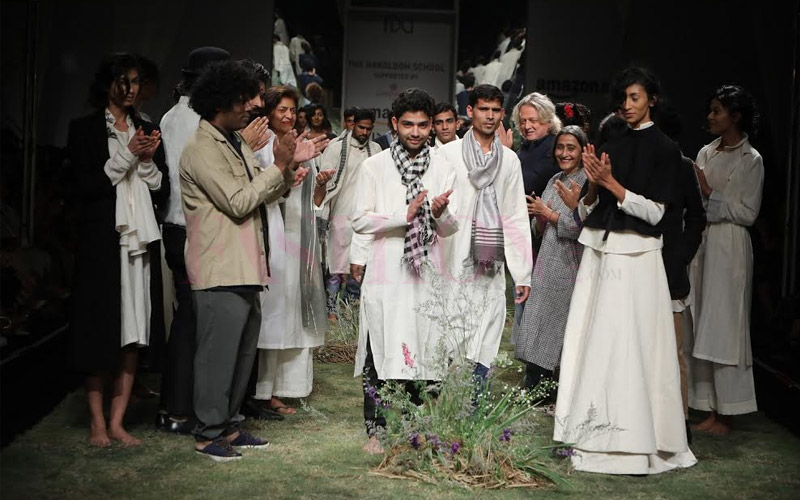 New Delhi, March 15, 2017: An exclusively crafted show by The Handloom School of WomenWeave supported by Good Earth, opened the 29th edition of Amazon India Fashion Week 2017. The show brought together 13 key designers/labels – Akaaro, Antar-Agni, Eka, Good Earth, Neeru Kumar, Nicobar, Pero, Rajesh Pratap Singh, Raw Mango, Rohit Bal,Suket Dhir, Urvashi Kaur & 11:11 Eleven Eleven who created ensembles from fabric woven by the talented students of The Handloom School that showcased not only the unique style of each designer/label but also kept intact the magnificence and delicate elegance of Indian handloom. The versatility of the weavers, the talent of NID Textile Graduates: Neha Lad and Sayan Chanda, and the creative imagination of the fashion designers, gave the show the splendor of a landmark event. Curator Kshitij Kankaria, a Mumbai based Fashion Stylist, designed and styled set designs, choreography, hair and make up and the entire look and feel of the show in a way that brought the attention back to the magnificence of weaves and handloom. The show ended with the participating designers sharing the ramp with the talented weavers who joined from nine different weaving areas of India.
As a pre-cursor to the show, a panel discussion on the theme "The Future of Handloom" was organised wherein a panel consisting of design, retail and industry veterans – Sally Holkar, Founder of WomenWeave and The Handloom School, Anita Lal of The Good Earth Company, Uzaramma of Dasktar Andhra, Sunil Sethi, President of Fashion Design Council of India, and leading designers Sanjay Garg and Gaurav Gupta addressed the need to educate and excite prospective customers: buyers, sellers and the end audience. They also spoke about the need to create market opportunities to promote homegrown handloom and also the need to showcase handloom as beyond traditional and easily adaptable into modern fashion.
Following the panel discussion, the ramp show was succeeded by a meet and greet session where media attendees, influencers from the fashion industry, buyers and sellers had an opportunity to interact, ask questions and exchange notes with not only with the designers but also with the unsung heros: the weavers! The weavers here had an opportunity to talk about their work, their legacy and the beauty of art and craft from the different parts of the country.
Sally Holkar, Founder of WomenWeave and The Handloom School said, "I am overwhelmed to be here! This is a great opportunity for The Handloom School students to showcase their skills, rich heritage and learn about the markets they will be operating in. The first time I saw the ensembles, I could not contain my excitement about how the loom could transform into garments so beautiful and wearable. I am thankful to all the talented designers for making this happen, Good Earth for their love and support and Fashion Design Council of India to have given us this great opportunity".
Speaking at the event, Anita Lal of The Good Earth Company said, "Working with Sally and The Handloom School has been a wonderful experience. We believe in all the good work they are doing and we are proud to have been able to support them in any way we could. I hope our association and this platform would bring the much needed mileage and attention to the weavers and the conceptualisers who put their heart and soul into creating these beautiful fabrics. I would also like to extend my gratitude to the designers who took out time from their busy schedules and worked on these stunning ensembles to promote the cause."