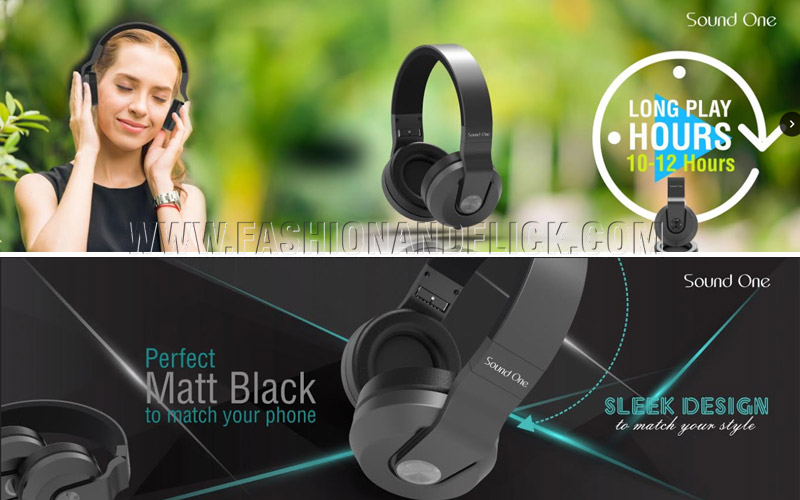 Sound One, a Hong Kong based company and pioneer in portable audio device providing solutions to professional audio and wireless communication today announced its festive offering with the launch of iconic Sound One V8 Bluetooth wireless headphones with MIC in India. In India, festive season comes as great reason to connect people and spread happiness and that's what this new product also stands for. This launch will surely widen the scope of gifting ideas for your loved ones.
It is being touted by the company as a flagship killer in this category with the sleekest design of the year at the most competitive price. The headphones have the most advanced Technology CSR 4.1, HD sound clarity, soft cushions for comfort and long-lasting battery. Packed with all the best specifications, it is confident to win the hearts of the consumer.
Sound that stays true to your music
Precise guitars. Clear vocals. Clean bass and crisp percussion. Discover sound quality that brings out the best in your music—including subtle details you may never have noticed. Music is deep, powerful and balanced so every note sounds clearer.
True-to-life sound
Experience meticulous wireless sound quality without signal loss up to 18 hours per charge so you can listen longer. Standby time up to 180 hrs & Playing time up to 18 hours making every moment your own.
Superior Sound & Range With Bluetooth CSR 4.0 Technology
Get lost in rich, lifelike music from your computer and mobile device with Advanced CSR version 4.0 8635 Bluetooth Chipset technology. Connect your Sound One V8 to Desktop,MacBook ,ipad, tablet or mobile phones. Works within a range of 10-15
meters.
Noise isolation & Rich bass makes musical experience magical
Snug fit increases noise isolation, fullness & Rich bass which is ideally suited for longer listening periods & travel. Balanced sound, without harsh bass & treble boosting prevalent with other brands produces a fully satisfying listening experience without the need for unhealthy volume levels.
Intelligent Control Technology & Microphone
Convenient ear-cup controls & mic are compatible with Apple iOS & Android.With the control knob you can play, pause, shuffle and adjust the volume. You can also answer calls as there is an inbuilt microphone.
Light Weight,Collapsible & Portable Design for comfort
Sound One V8 collapsible headphones can be fold down to a compact travel size if you need to put it in your bag. Music gets more enjoyable when you can listen in comfort all day long.Premium,Light weight & Adjustable headband gives you more comfort.
Long Play Hours
Advanced battery efficiency technology means you'll enjoy up to 16 hours of play time on 60% Volume and Up to 8 hours on full volume on a lightning-fast 2-hour charge.
The price of the product is 1990 INR. The product carry's a 1 year warranty and will be available exclusively on Amazon.