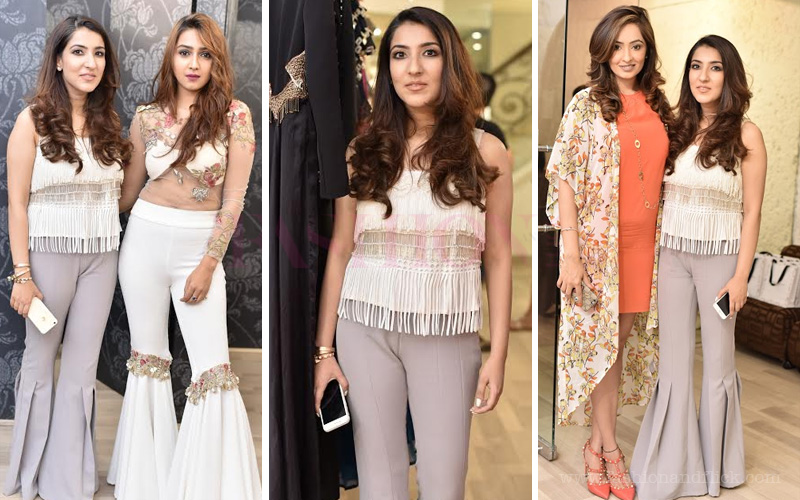 Ridhima Bhasin– the contemporary Indian Women's wear designer known for her from flattering outfits launched her Spring Summer '17 collection 'Lucidus' at her Flagship store, celebrating in style there was Wine and Cheese for a fun filled evening. Fashionistas of the city were seen exploring the new collection and interacting with the designer.
This season Ridhima has brought the quintessential and classic ivory and Ash grey back in Fashion, bringing with it flamboyance and aura of an Indian Goddess in each outfit of her collection S/S'17 'Lucidus'.
Shradha with Friend, Himani Bhatia with Shaurya and Mehak Anand with Gaurika Bubber
If you're looking for Indian wear with a slightly contemporary spin or beautiful pieces to wear for a spring wedding, Ridhima's collection is perfect for you.
The collection is inspired by iconic shapes of Moroccan architecture, the majestic inverted domes, slender Minarets, intricate and spell binding Jaali windows and Moorish lamps…The word Lucidus invokes a feeling of Light, brightness and clarity that reflects in each ensemble.
Bulbul , Sapna, Aishwarya, Saloni and Megha
It encapsulates a feeling and mood of lightness, with beautiful circular skirts, slender pants, sheer blouses, cropped capes in pastels :Ivory, grey, subtle lotus pink, sage green and vanilla hues come together with delicate thread embroideries, hand crafted tassels with hints of silver and cold moon grey embellishments amalgamate to create this spring summer-17 collection.
Palak Khanna with Prachi Awasthi, Harshita Rawat and Anchal Sukhija
Fabrics like organza, French net and butterscotch georgette, beautifully manipulated with bubble pleating are placed in shapes that take inspiration from Moroccan art and architecture. The designs strike the right balance between contemporary and conservative, mainly focusing on accentuating the female form that exude a sense of magic and fantasy with their form flattering silhouettes.
This collection is for the contemporary, strong willed, confident woman of today.
Reasonably priced this collection has something for everyone, weather you are the bride, the brides best friend, sister or mother, the entire range is under 1 Lakh. You can shop this collection at her Flag Ship store in South Extension Part -1, Main Market in New Delhi and other stores like Ogaan and Carma, This collection is also available on her website: http://ridhimabhasin.com/ , Pernia's pop up shop and all contemporary online shopping portals.
When: On Saturday, May 20 th 2017
Where: At Ridhima Bhasin's Flagship Store in South Extension Part-1, Main Market