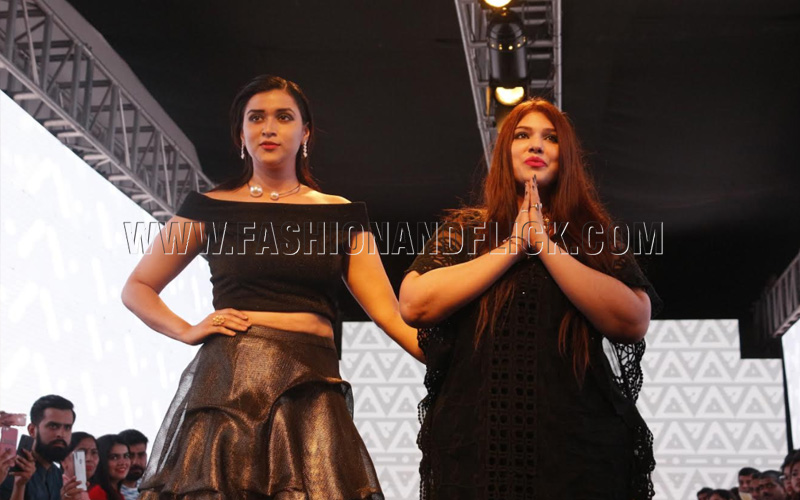 New Delhi: Ashima S Couture presented it's Misty Monochrome Hues Collection at tenth season of India Runway Week at The DLF Place Saket, New Delhi. Country's third largest fashion event commenced with high spirit in the capital recently and put up a spectacular display of the hottest trends to watch out for by some of the renowned and newgen designers. Ashima Sharma a newgen fashion designer also took participated in it.
Indian film actress Mannara Chopra said that "Ashima Sharma has very exciting black & white collection which is perfectly fit for summers. White colour dresses you can wear in the day time and black for the night time. I am wearing the black dress in which I am feeling very confident in this outfit designed by Ashima Sharma. I just love the vibe of Delhi".
Designer Ashima Sharma, a new gen designer showcased her collection Misty monochrome Hues which is enamored with sass & elegance of a modern day woman who believes that sky is the limit for the one who wants to achieve big, it's a trend to stay and we have attempted to present here with varied applications of this concept, with monochrome fashion there is never a style mundane day and here we aim to curate a collection that goes well with every mood, also with the fashion aspect we combine the body confidence stating that today's women can don just anything & be carefree. With the chic monochromes in our collection we also have a figurative reference to the blacks, whites & monotone hues which give a metaphor to the odds & evens faced by the women in our society despite which they emerge as world leaders in their respective fields. Bollywood Actress Mannara Chopra walked the ramp for Designer Ashima. She dedicated this collection to all the empowered women who have walked against the odds.