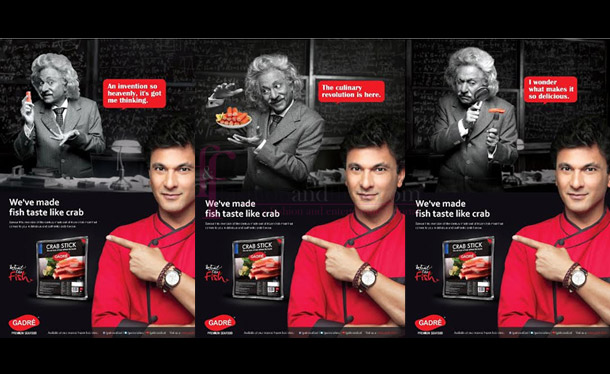 India: Gadre Marine Export Pvt. Ltd. started India's first Surimi ** manufacturing plant and currently is the largest Surimi producer and retailer in India. Fusing innovation and food with Surimi is flavoured with natural crab extract and made to taste like crab meat. This to our mind was a unique product – nothing short of an invention.
The launch of this product has been planned with an extensive Marketing & Advertising campaign – What The Fish!
What The Fish – an intriguing yet simple term, what the Fish strikes the right chord for the brand and its offering. The campaign is a holistic plan that covers Digital, Print & Electronic media. They have also produced a series of webisodes with Chef Vikas Khanna along with the TVC that will go live very soon.
Sharing his thoughts on the association, Mr. Vikas Khanna quotes,"I can never get enough of seafood and through this association I've explored some interesting recipes which will change the way we eat seafood! Especially with an upcoming, innovative products from Gadre".
'We've made fish taste like crab', changes the perspective, especially for the seafood lovers. "After hours and days of brainstorming, we came up with this campaign that will definitely bring a new revolution in the food world and then it was conceived by our agency Onads Communications" says Sneha Sharma, Brand Manager, Gadre Marine Export Pvt. Ltd.
Executed by Tubelight Films, the TVC is in black & white and colour to represent the coming together of two different eras. "The moment I read the script I was in love with it." says Prashant Issar, the founder of Tubelight Films. He adds, "I didn't want to use any animation or graphic. So right from the casting of the scientist to his make-up, background sets, even the formulas on the blackboard was created, Giving it a more realistic look and feel." The high point of the film is when the world's most famous scientist realises that it is Surimi which is flavoured with natural crab extract which tastes like crab meat and even he acknowledges that it is the greatest invention ever. "All those who were involved in this campaign on and off sets have done a great job." adds Issar.
Rapidly expanding in the Indian Market Gadre has taken the Market by storm with their innovative products. With their competitive pricing Gadre has charted an aggressive growth plan into Tier 1 and 2 cities across India. In order to appeal to the primary demographic, Gadre has launched special webisodes, which feature recipes created by Vikas Khanna. Special recipe features in Femina, Good Housekeeping and other magazines, which will be reaching out to Housewives pan India.
Gadre products are fresh, healthy and easy to incorporate in recipes. They are also made easily available with the GPS store locator on their website. The association with Vikas Khanna an internationally renowned Chef only serves to prove that Gadre is the leading retailer of premium frozen seafood and the only choice for quality Surimi Value added products.
By marking their presence in digital world as well, the brand is leaving no stone unturned to achieve this transformation. Gadre also organized an online contest where winners got a chance to meet Michelin Starred Chef Vikas Khanna.