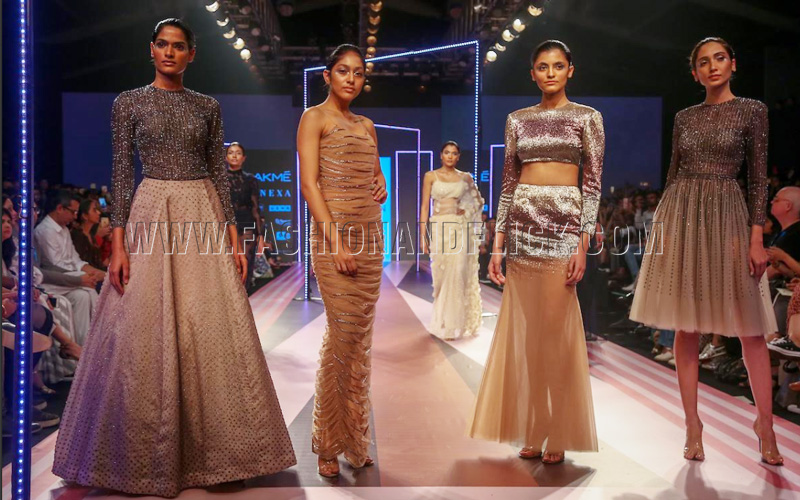 Mumbai, Thursday, 31st January: A powerhouse of talent, Sunaina Khera made her debut at the GenNext show of Lakme Fashion Week'19
With a cascade of artistry and creating garments out of her current state of mind, Sunaina presented the audience with a stunning collection that was inspired by her own life. Titled A long way home, each garment was a representation of the five stages of grief, starting from denial of facts that act as a veil to prevent shock, leading to anger an emotion so loud that it dulls everything down, treading into the next step ofnegotiation and confusion which entails long enough to enter a state of depression, enveloped in melancholy and repressed emotions and finally leading up to a moment of clarity that helps in acceptance of reality and letting go of the pain.
A line of evening and occasion wear, the garments were a perfect presentation of classic feminine silhouettes with a dash of understated glamour. Each garment was minutely detailed with beautiful 3D embroidered flowers on sheer fabrics and intricate hand embroidered embellishments on flowy silhouettes. The colour palette of the collection represented the five stages of grief and ranged from shades like midnight blues to silvery greys and pristine whites.
Minimal hair and make up of a tight clean bun and a dewy face highlighted with glittery eyeshadow perfectly complimented the garments. Each element played in sync with the dimly lit setting which created an ambience of intensity and romance. Khera's collection evolved with each garment and brought to life an enchanting personification of a set of emotions.