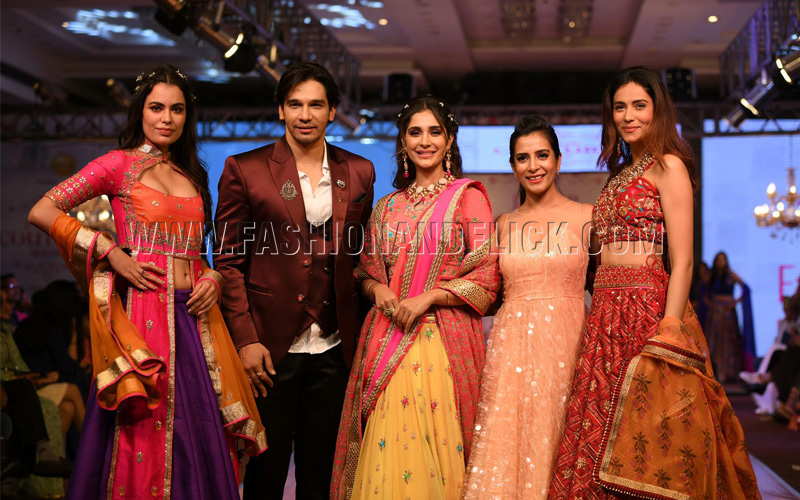 Jaipur couture show season 6 concluded on ultra glamourous note in Marriott Hotel, Jaipur with stars of bollywood prachi desai, chUnky pandy, Ali Fazal, Mugdha Godsey, Himansh Kohli , Aditi Hundia and many celebrities walking the ramp for veteran designers.
Ace designers Himmat singh, Farha Ansari, Dipali Parikh, Gaurrav Gaud and Ridhima Godha Arpita Nahar, Shrena Sutaria showcased their beautiful collection.From royal to rustic from ultra glamourous to chic stunning models displayed them with elan.
Making debute in the show were Richa Aggarwal, makeover expert from Cleopatra chain of makeovers and bridal lounge and Purnima Goyal , makeover expert from Silverine spa & salon. Richa Aggarwal, Harveen Kathuria and Purnima Goyal created stunning looks for the show.
Organiser of the show Gaurrav Gaud informed,' This was second season of Jaipur Coture show and I am glad that within short span of time magnitude of the show has grown and designers are participating from all over India, from jaipur, ahmadabad, delhi and chandigarh.
Mr Ajit Soni, Anil Bhattar, Deepak Nahar, Chintan Ojha, J.D. Maheshwari, Mahavir Sharma, Shekhar Kalra and Chintan Oza are the show directors for Jaipur couture show.