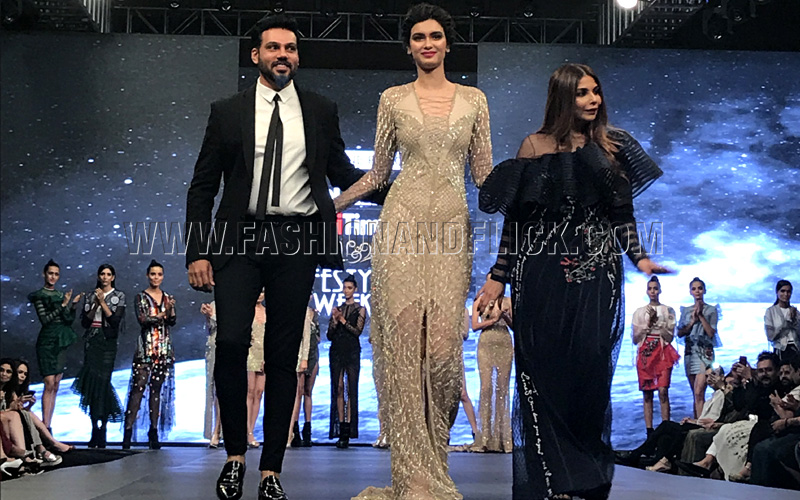 New Delhi, November 4, 2017: The Kohler Delhi Times Lifestyle Week co-powered by Panasonic Beauty culminated on a highly glamorous note with the gorgeous Diana Penty walking the ramp as showstopper for the designer duos, Falguni and Shane Peacock. The splendid event held at Andaz Delhi, a luxury lifestyle hotel by Hyatt, saw some of the country's biggest designers such as Pia Pauro, Siddartha Tytler including, Falguni and Shane Peacock, showcase their couture and prêt collections, which was greatly appreciated by the audiences.
Bollywood diva, Diana Penty mesmerized the audience as she walked the ramp as the showstopper dressed in a golden outfit for Falguni and Shane Peacock. The collection presented by the outstanding duo showcased their signature use of feathers, sequences and prints. While Pia Pauro's collection, Wonderflip, presented by Sunar Jewels, plays with lots of colours, nomadic embroideries, layering and cool cotton fabrics to make those long hours of dancing comfortable; designer Siddartha Tytler's collection crafted in black, earthy tones with highlights in gold was all about Indian designs with a contemporary twist.
The day 2 of Kohler Delhi Times Lifestyle Week also witnessed celebrated model Laxmi Rana, Sonalika Sahay, Candice Pinto, Deepti Gujral, Donna Masih and others walking the ramp showcasing the work of the designers. While model Deepti Sati (Miss India 2014 finalist and actress) opened the show for Falguni and Shane Peacock, Anukriti Gusain (fbb Femina Miss Grand India 2017) closed the show for designer Pia Pauro amidst a thunderous applause from the audience.
Commenting on the success of the Kohler Delhi Times Lifestyle Week Rohit Gopakumar, COO, Optimal Media Solutions – Times Group Company said, "If Mumbai is called as the financial capital, Delhi is India's de-facto fashion capital with most of the renowned designers being based out of this city. With unprecedented growth of professionals within NCR and migration of highly-educated and skilled professionals, the definition of self-expression keeps getting reinforced in this city's culture. Uber, suave and well-heeled fashion citizens in Delhi are always known by the company they keep and the social life they lead reflect this lifestyle. All high-end lifestyle products make a mark of entry into India first in the city of Delhi. So, we at Delhi Times felt that there was no better opportunity or platform to launch our first ever Lifestyle Week in Delhi. Delhi Times has become synonymous with begin the go to platform for a daily dose on Lifestyle and Entertainment for this discerning audience and an event of this nature will only bring us closer to our audience and establish us as a torch bearer in trend spotting. We thank all our partners and designers who believed in our ability to execute a fantastic event. The team worked day and night to put this together and kudos to them for pulling off a classic event which has become the talk in fashion circles. The ramp came alive with colour, art, tradition, and of course, a heavy dose of style. It was definitely an event not to be missed."
The 2-day premium lifestyle week was an extravagant affair with labels, designers, models and celebrities like fashion designer Jatin Kochhar, Charu Parashar, Rina Dhaka, TV actor Karan Vohra, stand-up comedian Amit Tandon, and actress Anshul Chauhan among others keeping their best foot forward.