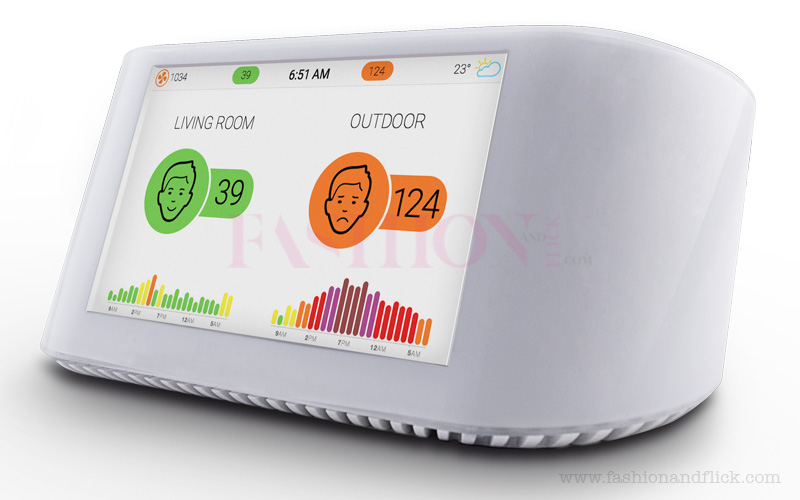 Today's world around us is full of life threats. With rising pollution levels in the city it is getting hard to move around. So we try to keep ourselves and our dear ones in a safe surroundings of home or office. But what if I tell you that the air their might not be as clean and pure as you might be thinking it to be.
Altanta Healthcare has introduced Air Visual NODE to bring clarity to your doubts about the air you are breathing. NODE is a portable air quality monitor that displays immediate particulate matter (PM), carbon dioxide (CO2) levels, Temperature and Humidity on a five-inch screen and via smartphone. NODE sees what a naked eye cannot and tracks all the invisible threats in the air. This is a critical first step to breathe in clean and pure air.
This is a small compact sized battery operated device which is easy to carry in a back and can be used anywhere.
What makes NODE unique?
Here are the 18 key features of this product from Atlanta Heathcare .
Key Features :
Measures PM2.5, CO2, Temperature, Humidity
Monitor has a screen that shows indoor air quality compared to outdoor
Wi-Fi connectivity with enhanced sensitivity to capture remote Wi-Fi signal
USB charging
Battery that ensures continuous measurements even during temporary power cut (24/7 results). In case of a long power cut, the sensor automatically boots up when the electricity is back, without human intervention
Web-based central reporting of the building's air quality in real-time
Measurements time intervals are configurable
Air quality data is accessible in real-time from the user-friendly dashboard
System supports automatic alerts based on customized rules
All historical data can be downloaded in CSV format from the web browser
Possibility to monitors all the Nodes inside the AirVisual mobile application
Notifications for iOS device when AQI threshold are reached
The device has over 5 years' internal measurement data logging capacity
The sensor functions with or without an internet connection
The sensor meets EC directives (CE certification) and FCC requirements
Widgets can be installed on intranet and internet website with easy integration
Widgets are fully configurable to match specific requirements
Widgets can be integrated in digital signage (TV screen, picture frames) across the Organization
[Price: Rs 18990 at Amazon.in}
Though we have not yet reviewed the product but as per the demo given , it seems to be an innovative product but it just tells you about the air quality. It does not improves the air quality. So according to me it can let you know about the problem but cannot do anything to improve it and so you will have to combine it with air purifier to improve the quality of air around you.