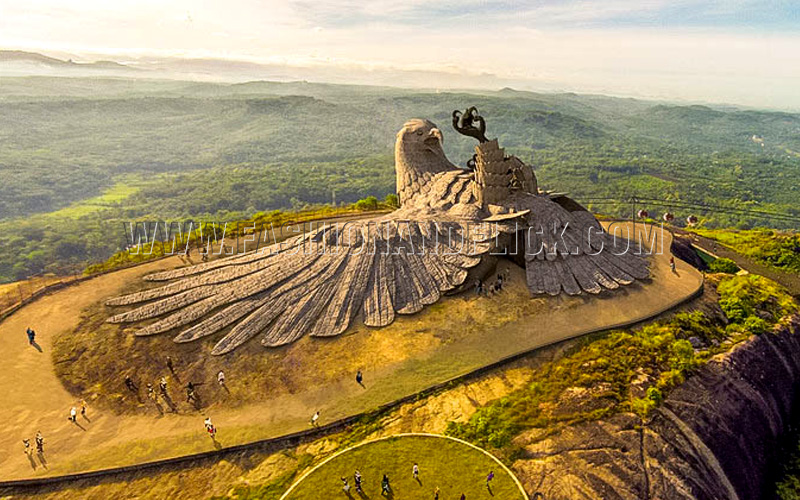 Thiruvananthapuram, 5th December 2017:  'Adventure Rock Hill' of Jatayu Earth's Center – Kerala's first BOT model ecotourism project, is now open for travelers and visitors. Located at Chadayamangalam in Kollam district of Kerala, the Jatayupara Nature Park was rechristened as Jatayu Earth's Center. Covering four hills in Chadayamangalam, there are few more ventures pending to make the Nature Park fully operational, which is expected to be completed by April 2018
Adventure Rock Hill of the center is open for a group of 10-100 people, with entry of INR 3500 per person. Spread across 65 acres, it offers abundant activities/services for the vacationers, including camping, rock climbing, trekking, 6D theatre, a virtual reality museum, a Siddha and an Ayurvedic cave resort and much more. The attractive tour package for visiting the centre includes 15 challenging adventure activities.  It has a separate adventure zone, which provides over 20 different games such as paintball, archery, laser tag, rifle shooting, rock climbing and rappelling for the tourists.
Speaking about the center, Mr. Rajiv Anchal, Concept Designer, Chairman and Managing Director, Jatayu Earth's Center stated, "The center is considered as a glorious example of sustainable and eco-friendly tourism in India. The center is a result of 10 years of sustained dedication. 'Jatayu' symbolizes an era when humans and other living beings cared for each other and lived together peacefully.
Emphasizing on the continuous endeavor of Kerala Tourism, Shri. Kadakampally Surendran, Honorable Minister for Co-Operation, Tourism and Devaswom, Government of Keralasaid, "The tourism department of Kerala has always been keen on promoting adventure tourism to woo vacationers from all corners of the world. Kerala Tourism will keep executing tourism development plans in order to accelerate the growth of the tourism sector."
Owing to the changing preferences of travellers, the Tourism Department of Kerala aims to promote adventure tourism across the state and position the state as 'The Land of Adventure'. Following the unique concept of Responsible Tourism, it offers several opportunities to support local communities with projects like renewable energy and rainwater harvesting.
The center has been built in a public-private partnership under the Build-Operate-Transfer (BoT) model. The bird sculpture replicates the mythical bird- Jatayu, which was developed by filmmaker and sculptor Rajiv Anchal. As per mythology, Jatayu died at this spot while fighting with Raavana to save Goddess Sita.
Speaking about the much-awaited tourist spot, Mr. P. Bala Kiran, IAS, Director, Kerala Tourism and Managing Director, Kannur International Airport said, "From adventure enthusiasts to families, young generation of travellers to couples, this tourist spot caters to a wide audience. The center allows the tourists to have thrilling and refreshing experiences, while exploring the natural beauty of the place.  The much-awaited tourist spot is split into two sections. While the first section focuses on climbing activities, the second portion covers activities such as Burma bridge crossing, valley crossing and paintball."
Key highlight of the Jatayu Earth Centre is the 200 ft. long, 150 ft. wide and 70 ft. tall sculpture. It is the world's largest bird sculpture with an entry into the Guinness Book of World Records