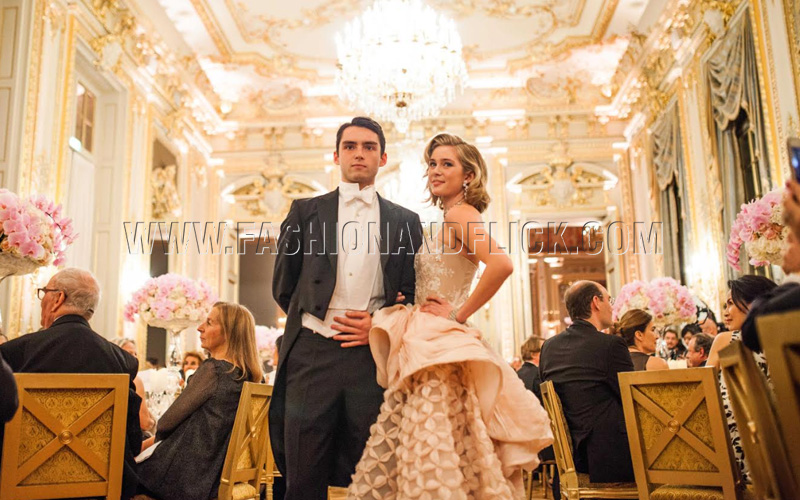 Paris. November 24, 2018: Every year, since 1992, 'le Bal', also referred to as le Bal des Débutantes, showcases twenty international débutantes and twenty cavaliers from various nationalities for one spectacular evening of high fashion, networking and fund raising. The esteemed guest list represents the legacy of renowned influential families across the arts, politics, business and culture – as they make a grand entry into the uppermost echelons of society at the Shangri-La Hotel, Paris.
This year saw four new Indian faces– Princess Ananya Raje Scindia and Prince Yuvaraj Mahanaryaman Scindia of Gwalior – children of Jyotiraditya Scindia and Priyadarshini Raje Scindia. Aria Mehta – daughter of le Bal's official jeweller, Payal Mehta and her husband, Dipu Mehta were present, along with Shloka Birla – daughter of industrialist power couple Yash and Avanti Birla.
Princess Ananya Raje Scindia chose a gown from Indo-French duo,Lecoanet-Hemant, and was accompanied by Prince Yuvaraj Mahanaryaman Scindia of Gwalior. Aria Mehta looked stunning in a couture creation from Lebanese designer George Hobeika and twirled around the dance floor by her cavalier Count Rufus D Hauteville. Meanwhile, Shloka Birla sported a glamorous cocktail dress by Indian couturier Manish Malhotra with her cavalier HSH Prince Jean De Croy Solre. The young débutantes wore exquisite jewels from Payal New York, which perfectly complemented their ensembles for the evening.