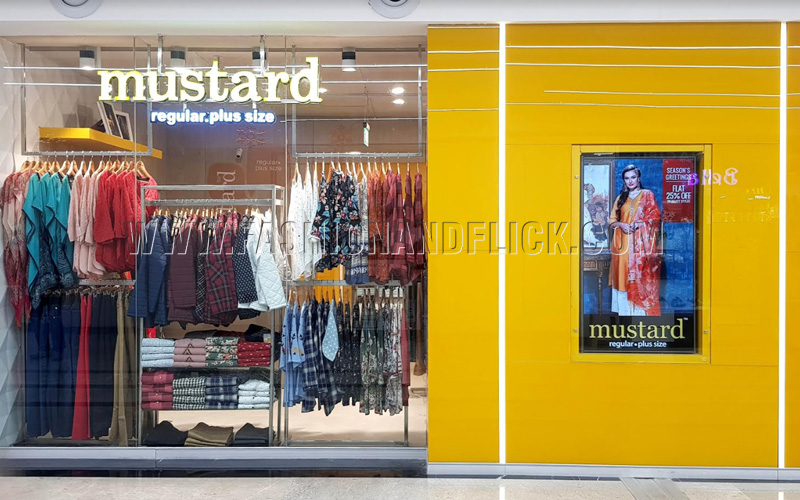 Mustard Fashion is an inclusive only brand in India that offers ready to wear women apparel in 10 sizes, ranging from regular to plus size, truly advocating that style is not constricted by size. Mustard Fashion has now opened 2 more stores in Delhi, one at GK 1 and the other one at Pacific Mall Dwarka. The brand operates 33 exclusive brand stores(EBO's) in 15 cities across India; and are taking over the responsibility of keeping Delhi and Delhiites fashionable with 8 stores in Delhi NCR.
Speaking about opening of 2 more stores in Delhi, Saurabh Gupta-MD, Mustard said "Delhi is not just the capital of India, it is also the fashion capital of India and people here just love dressing up no matter what the season is. It's dress up or dress down, but dressing up is important. Also, Delhi, Delhi NCR, Gurgaon, Noida etc., the distance is a lot and as a brand we want to make ourselves easily accessible and that is one of the reasons why we decide to open stores in key central locations in the city. And for places we have not opened our stores yet, we have our online store." www.mustardfashion.com
Mustard offers huge choice of affordable apparel in all categories such as Causal wear, Party wear, Office wear Ethnics & outerwear, considering the tastes, fashion preferences and cultural sensitivities of Indian women. The brand has a good balance between Indian, western and fusion wear, ensuring that their customer, while shopping the latest attires either from retail or online store, encourages experimenting and indulging more. Customers can enjoy the wide range of Indo-western fusion wear including Kurtis, Anarkalis, Tops, Tunics, Palazzos, Dupattas, Dhoti pants, Skirts, and Fusion Dresses, Jackets starting from Rs.599 and above – all under one roof!
The latest stores have been launched at GK 1 and Pacific Mall Dwarka are spread across 800 sqft each, trending natural hues and textures that echo with the sentiments of the brand philosophy i.e., keeping it simple, clean and comfortable for customers. The focus for Mustard has always been their customers, when it comes to their collection or their store experience.
Saurabh Gupta talks about his recent spree of expansion in India, "We opened our flagship store in Dehradun recently and now launched 2 new stores in Delhi as well. At the moment we are working on our expansion plans across the nation, we plan to open 100 EBO's in next 3 years with an investment of Rs. 48 corers"
Founded in the year 2004 in India, Mustard is a fashion label of international repute. The apparel manufacturing and retail brand was established to provide classy western and chic contemporary Indian wears for women of different age groups and of all sizes. Each of Mustard's designer collections brings the best of style, trend, and comfort. Mustard offers ready-to-wear garments for women in 10 sizes from regular to plus as it understands the Indian body type better than any other brand.