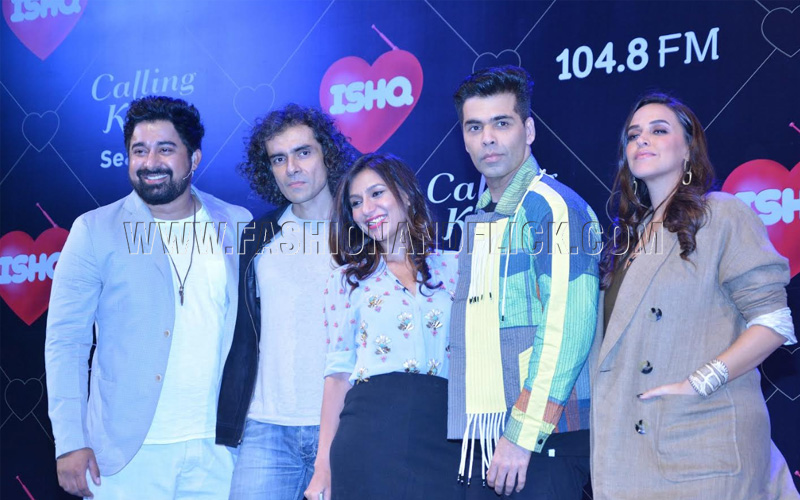 National, 6thAugust2018: Ishq 104.8 FM, India's 1st romantic radio station,is all set to launch the 2nd season of its iconic radio show, Calling Karan, hosted by ace film-maker Karan Johar.Captivating listeners with interesting advice on modern day love and relationship issues, the show garnered immense popularity during its first season. The second season promises to be even more intriguing with edgier content; this new season holds the promise of being even bolder than before!
Drawing inspiration from his own life's experiences, he gave listeners some straight up advice on love and relationships in his inimitable style, interspersed with celebrity call-ins and interesting trivia. A host of celebs, including Alia Bhatt, Varun Dhawan, Anushka Sharma, Akshay Kumar, Katrina Kaif and many others, were featured in the first season of this radio show.KJo, known for being real and unfiltered, came across as radio's new BFF!
Imtiyaz Ali, Neha Dhupia and Karan Johar
Snippets of Calling Karan season 1 were available on social media as well, helping the show to generate a lot of buzz online. The show also received critical acclaim from both trade and social media. It won a Gold at Excellence in Radio Awards last year in Most Creative Campaign category and a Silver in Best Interactive Idea category.
For the launch of 2nd season, Ishq FM curated an event called The Love Conference, which featured Karan Johar, Imtiaz Ali, Neha Dhupia, Ranvijay Singha & Miss Malini in an intriguing panel discussion on modern day relationship issues. It was followed by a stand-up act by Anirban Dasgupta and an unplugged musical performance by Jonita Gandhi.
Speaking about the launch of Calling Karan season 2, ShivanginiJajoria, National Head, Operations, Ishq 104.8 FM said, "Ishq FM is constantly trying to raise the bar for engaging content. Be it Calling Karan, or Gaydio – India's first mainstream LGBTQ show, or Romance in Rome – which is probably India's biggest travel quiz show, our shows have struck an instant chord with the young adults. Ishq's promise of '70% less ads' is a win-win for both listeners and advertisers. Listeners love the long music sweeps and advertisers love the fact that their ads stand out in a less-cluttered environment."
Calling Karan season 2 is slated to go on-air from 13th August, Monday to Friday, at 10 am and 8 pm. The show will be promoted extensively through a multi-media marketing campaign.With such ground-breaking shows and big-bang marketing promotions, Ishq FM is indeed re-defining radio in India.