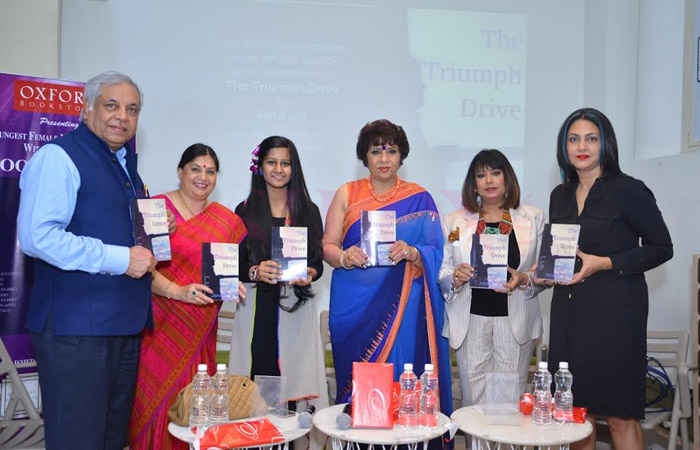 February 25, New Delhi: Designer Niket Mishra hosted an evening to introduce the book – The Triump Drive by youngest novelist Janvi Jaji at Oxford Bookstore.
Inspired by Janvi's grandfather's life, she unfolds the story of Shiv who was no one at one point in time, but with persistent efforts and a drive to uncover his talents, became a man of substance! He grew up watching his mother as a bread earner and at a very early stage stepped into the same rat-race of earning money. Success as they say, did not come easy for Shiv too but despite failing and being cheated a number of times, he did not give up and build an empire for himself with everything. His journey is quite filled with almost everything you can imagine – from struggle, mistakes, family issues, sorrows, betrayal, regrets to achievements, adventure and so on and on. But unlike the usual stories, where you see success sets in for the rest of the life, Shiv success journey ends.
The guest spotted at the event were Dr. Pradeep Chowbey (Vice President Max Healthcare), Susmita Chowbey, Deepika Arora (Vice President Wyndham Hotel group ) Actor Prachi Tehlan, Make Up Artist Shweta Sachani, Beauty Expert Bharti Taneja, Ex Lieutenant Rita Gangwani including others.