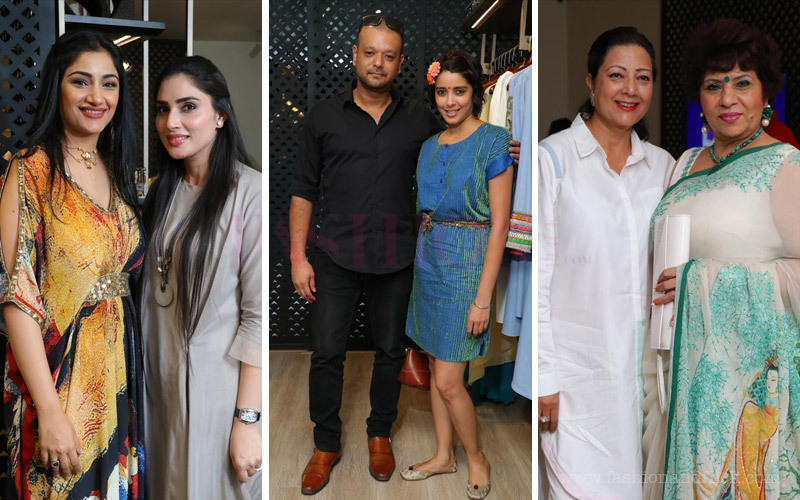 13th July 2017, New Delhi: Charu Singh hosted an evening to unveil the monsoon collection at Zooki- Multi Designer Galleria for women's clothing, jewellery and accessories at Meher Chand Market, Lodhi Colony. Update your wardrobe and be inspired with the latest collections from Monsoon. From day dresses to occasion outfits. The newest arrivals will keep you looking stylish right through the season. The collection includes Graphic prints, fun drapes and silhouettes, tassel jewellery and bags, draped saris, all this and more in fresh and refreshing monsoon colours to leave you feeling completely pampered.
Poonam Bajaj, Priya Chandana and Sonia Sekhri with Gurleen
The evening turned out to be a gala event where the guests were able to preview the collection. Spotted at the event were Fashion Designer Nida Mahmood, Shefali Thakur, Designer Poonam Bajaj, Neelam Pratap Rudy, Beauty Expert Bharti Taneja, Fashion Designer Anupamaa Dayal, Shelly Maheshwari Gupta, Shilpa Gupta and Renu Hussain and many more.
Rosy Ahluwalia, Anupamaa Dayal and Pooja Bhutani
Charu Singh, Founder and Creative head, Zooki says, "To most people, shopping is about closets and finding something to wear. Here at Zooki, we take it as an opportunity to stretch the experience of the shopper to indulgence in an array of diverse and eclectic designs".