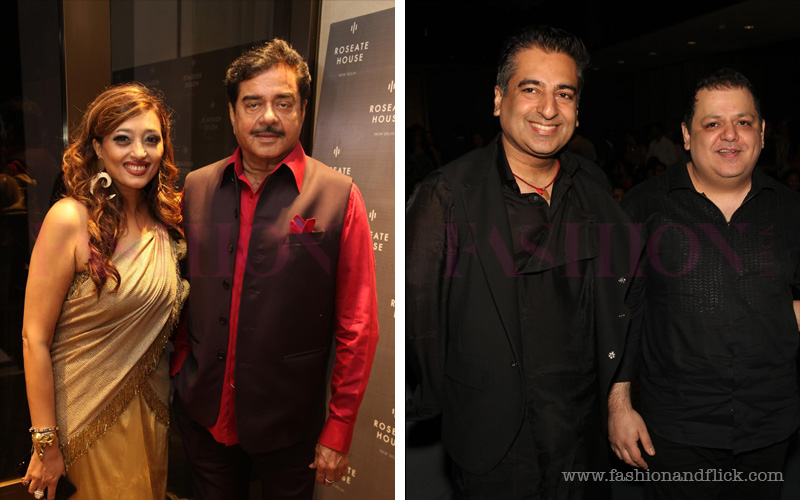 12th July, New Delhi : A coffee table book, titled "ShaliniSays Women on Top…of their Game ( WOT) by Shalini Arora Kochhar was  unveiled at Roseate House, Aerocity. Millionaire Asia and  AirAsia salute women entrepreneurs and have come forward to support WOT in this mega celebration of Woman Power from all walks of life. It is a group of powerful ladies who have pledged themselves to work diligently towards tangible goals and to support each other.
Sushma Seth with Shahnaz Husain
The most celebrated quality of women is gratitude and being malleable. To take that as the key DNA, Women On Top has taken cancer awareness CSR initiatives as one it's main objectives. A part of the proceeds raised for the book was  donated to the "Festival of Hope Foundation" for cancer awareness.
Kavita Narayan, Balpreet Kaur and Atul Wassan
To commemorate the beginning of this journey, they  published a coffee table book, titled "ShaliniSays Women on Top…of their Game". This book has featured  a list of 100 Women from varied arena's who are successful in their chosen fields. A directory, of strong, confident women with gumption and attitude and the ability to make a difference in today's world. This book has  inspiring stories of women entrepreneurs. A combination of women that are aspiring and a lot who are the ones we aspire to be – women already at the top of their game!
Sheetal Jaglan, Rita Gangwani and Rinku Madan
Shalini Aroraa Kochhar said, " I was humbled to be able to share the stories of 100 accomplished women entrepreneurs. I hope through this initiative we can inspire and empower other women and make a difference!
Parineeta Sethi, CEO, Exposure media, "In this fast paced time, it was not only enduring but also inspiring to watch women take charge and lead a path for others to follow and it gives us great pleasure to be a part of the book that features women who have taken it upon themselves to be trailblazers"
Radha Bhatia, Chairperson, Bird Group said, " It was heartwarming to see so many women achievers from various walks of life being featured in one book. This book not only features women achievers but also inspires many others to aim for the sky. Women Empowerment begins with a small step of supporting and encouraging other women. Let's work together towards a New India where girls from a young age are motivated to achieve thus aligning with our Prime Ministers slogon – " Beti Bachao, Beti Padhao".
Amar Abrol, AirAsia India Managing Director & Chief Executive Officer said, 'AirAsia is known for its diversity in it's business and service. We embrace different and innovative initiatives in providing empowering opportunities to our own people and guests. At the group level, we drive an initiative titled #AirAsiaMAKNA for cancer patients and survivors. In this participation, we were doing our small bit in support of a big cause.'
Kiran Jain, AirAsia India Commercial Director said, 'Being a working woman from a dynamic industry such as Aviation, I understand the difference women make in the work force. It was only with the support of my co workers and family that I have been able to dream big. AirAsia wishes ShaliniSays much success as she endeavors to celebrate women entrepreneurship." '
The extremely meaningful initiative has been powered by renowned names such as Bird Automotive, Genpact, Shopclues, NIIT, Diageo, Punjab Jewellers Rajiv Verma, IK International Publishing House, Salt Experiential Marketing,Seetu Kohli Concepts & Beverly Hills Conference & Bureau.
Proud partners that have come forward to put the book together as Shalini Arora Kocchar's team and  built the ShaliniSays Women on Top…of their Game strong bond were  The Bespoke Woman, Rashmee Pai Designs, Festival of Hope, WFive Communications, Ethereal by Sum Sum & Suman Bajaaj Sarees, Ratan Kaul & Saks Jewellery.
MillionaireAsia ShaliniSays Women on Top…of their Game is a unique initiative to reckon with and will touch many hearts impactfully.