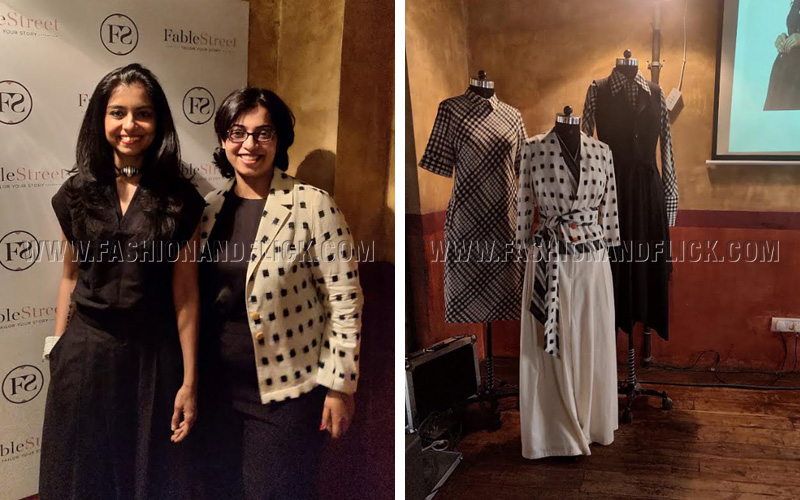 New Delhi, 31st May, 2018: FableStreet a revolutionary R&D backed premium work wear brand launched their first edition of designer work wear collection, 'A Dash of The Orient' in partnership with Nandita Basu, a veteran with over 20 years of experience in the Indian Fashion Industry.
Known for their intelligent, minimal designs and unique tailored fit sizing algorithm, FableStreet has built a strong followership within India, and globally, in less than two years of its operations. The launch of this Designer Edit, is a natural progression to offer edgy and statement pieces to its urbane customers, who are looking to curate their wardrobe with quality, timeless and well fit work-wear.
Steeped in captivating resplendence, the collection aims to fuse contemporary and timeless formal wear pieces with an elevated design sensibility and experimental silhouettes by incorporating a hint of The Orient. Complimenting designer Nandita Basu's signature style – minimal and edgy, and her love to merge Indian textiles into contemporary forms, the collection makes a statement by indulging in handcrafted, sustainable fabrics and minutely detailed ensembles in illustrious shades of Black, White, Grey and Indigo. The ritzy range is peppered with an elegant touch of drama by injecting hints of pop colours as elements. The plush and ethereal silhouettes are exclusively crafted to add playfulness to your traditional and contemporary work-wear wardrobe while holding true to FableStreet's philosophy that Style, Comfort and Fit can co-exist.
Commenting on this first of its kind partnership, Ayushi Gudwani, Founder and CEO of FableStreet said, "We are delighted to work with Nandita on this collection – it unites FableStreet's product philosophy of well fitted and minimalistic clothing with Nandita's design aesthetic. This is our attempt to offer our loyal customers, luxury designer clothing at value price points. With this collection, we are also blending Indian handcrafted textiles – Ikat's, Jacquards, Linens and contemporary work wear categories – Formal Jackets, Pants etcetera. Despite the ever changing fast fashion trends, we at FableStreet strongly believe in creating timeless, quality and well fit pieces that last forever. We continue to be thoughtful and R&D oriented about our product development and sizing process and this collection embodies the same – it looks great on all body types".
Talking about the new collection Nandita Basu said, "Work-wear is not a common category where designer's focus on. It was a pleasure working with FableStreet and together we have tried to create something unique and wearable for the Indian women. The idea was to develop bold yet subtle, experimental yet sophisticated and edgy yet formal collection in line with the brand's core philosophy."
The eponymous everyday professional wear collection consists of tastefully put together designer pieces addressing every woman's uniqueness, style and aesthetics. With "A Dash of The Orient", FableStreet brings opulence and exoticism to the workwear front – wrap around tops, asymmetrical hemlines and mandarin collars crafted in pure handloom fabrics. The attires are timeless classics blended with Oriental silhouettes, made into comfortable and tailored fit workwear. This limited edition collection in sustainable fabrics is our ode to the various moods of working women that, while inherently professional, have different shades of their own. They call them Sōzō-teki (Creative), Nonkina (Easy Going) and Rīdā (Leader)
The new collection is all set to launch on www.fablestreet.com on 01 June.