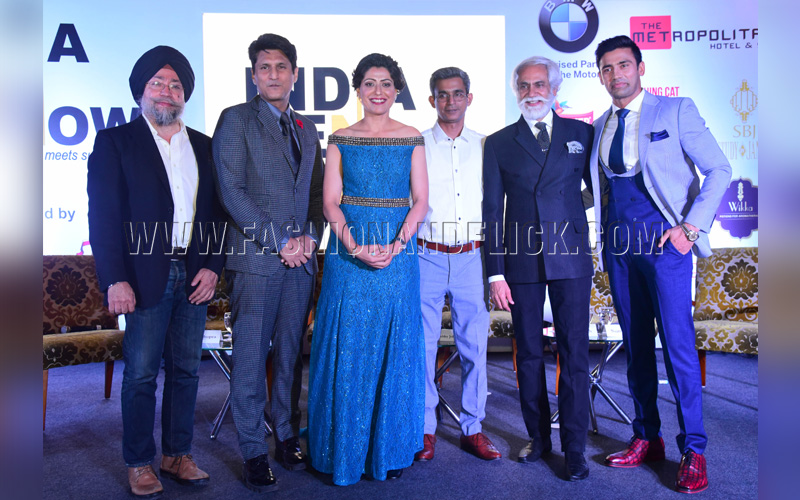 New Delhi, April 2019: Leading iconic men different walks of life got together to launch the inaugural edition of India Men Show. The evening that took place at The Metropolitan Hotel, New Delhi, was one-of-its-kind celebration of dedication and passion of phenomenal individuals who were honoured for their unparallel achievements.
The event kicked off with a panel discussion on changing trends on men's lifestyle industry. Former Indian cricketer Anjum Chopra led the conversation with Mr Sunil Sethi (President, FDCI), Bobby John Varkey (editor-in-charge, The Man), Mr Malvinder Rikhy (Former COO, Taj Hotels), Mr Rajiv Makhni (Tech Guru), Mr Sangram Singh (wrestler). The spoke on their latest interests and how men have become more evolved than ever before.
Some of the well-known names appreciated with "Man of Substance" honour included Mr Amit Burman (VP, Dabur India), Mr Raghava Rao (Vice President, Finance & India CFO at Amazon India), Mr Raghav Verma (Co-Founder, Chaayos), Mr Sunil Sethi (President, FDCI), Mr Zorawar Kalra (Restaurateur), Navin Ansal (Founder, Casa Pop), Mr Tarun Thakral (Founder, Heritage Transport Museum), Mr Sangram Singh (Wrestler), Mr Sachin Atulkar (IPS Officer, Online sensation), Mr Samir Suhag (Polo Player), Mr Rajiv Makhni (Tech Guru), Mr Jamal Shaikh (Editor, HT Brunch), Martin Howard (Social Activist) and Sabbas Joseph (Founder, Wizcraft). Mr Bibek Debroy, chairman of Economic Advisory Council to Prime Minister, was the chief guest at the felicitation.
A special recognition was given to Ms Ritu Beri for her exemplary contribution to the luxury industry.
"India Men Show evolves from the fact that men are becoming increasingly style savvy and that they are making informed lifestyle choices more than ever before. Be it fashion, fitness, grooming, machines, travel, technology or personal space, they are investing smartly in factors that determine their way of life. The event finds its purpose in encouraging modern men to become significantly aware of their lifestyle decisions and their impact in the society," said Karan Bhardwaj and Poonam Kumar, the founders of India Men Show.
.
The event was attended by well-known personalities such as Piya Bajwa, Subha Rajan, Maxwell Pereira, Nasir Abdullah, Air Marshal Ramesh Rai and Akriti Rai, Niladri Paul, Gautam Gupta, Mr Bobby Chadhha, Liza Verma, Anubha Dawar, Rupal Shabnam Tyagi and Akshay Tyagi.
Fashion, an integral part of Men's lifestyle, was represented by BMW and Study by Janak. While BMW showcased their latest Summer lifestyle collection of glares, watches, duffle bags, trolleys, polo shirts & motorsport jackets, Study by Janak presented their classic looks for the suave, smart and stylish Men. The evening was high on glamour, fun and fashion! The evening was high on glamour, fun and fashion!
Partners
Powered by Born of Web and Priceless Possessions, India Men Show 2019 is supported by leading names- BMW as Lifestyle Partner, The Metropolitan Hotel & Spa as Hospitality Partner , United Breweries and Fishing Cat as Beverage Partner, Wikka and BioAyurveda as Gifting partners, The Man and Exotica magazine as Media partners, Brand Stand Bespoke Communications as PR Partner, Red 93.5 Fm as Radio Partner and Crystal Hues as Digital Partner.